The surname SPILSTED is a very rare locational surname.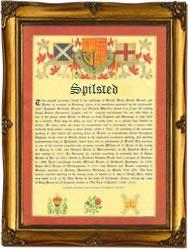 It is derived from a 'lost' medieval hamlet or individual building, which was probably called 'Speld-stede' or similar.
This would have described a substantial farm or homestead built of wood, from the Olde English pre 7th century 'speld'.
Quite why in a period when most buildings were of 'wood' construction, this one should be singled out, is unclear, but had we been able to discover the original location, perhaps this would have explained the reason.
Unfortunately, we have not been able to do so, and therefore this surname joins the other five thousand or so, all of whom descend from 'lost' villages whose memory remains only in the surviving surname holders. In fact, in general, the recordings of the name as 'Spilsted' are extremely rare, however amongst the few are:
James Spilstead, who in 1679 married a Miss Elizabeth Taylor in London
John Spilsted who married Anne Nye at Christ Church, Stepney, London, on June 24th 1845, in the reign of Queen Victoria (1837 – 1901).
The first recorded spelling of the family name is shown to be that of James Spilstead, which was dated January 13th 1679, at St James Church, Dukes Place, London, during the reign of King Charles 11, known as 'The Merry Monarch', 1660 – 1685.
Surnames became necessary when governments introduced personal taxation. In England, this was known as Poll Tax. Throughout the centuries, surnames in every country have continued to "develop" often leading to astonishing variants of the original spelling.
Source: surnamedb.com