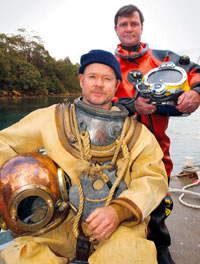 Two of the RAN's most experienced clearance divers have hung up their fins and masks after lengthy careers in the service.
But it may not be too long before the pair are getting wet again using their diving and explosive skills in civvie street.
The divers are WO Glenn Spilsted OAM, who concluded a 32-year career, and WO Eric Johansen, who completed a 29-year career.
Shipmates from AUSCDTONE farewelled them with a barbecue at the team's HMAS Waterhen base on August 16.
Earlier on the dive boat Dugong, CDRE Kevin Taylor, himself a former diver, presented WO Spilsted with a glazed montage of images and an immobilised pistol.
WO Spilsted was one of the first direct entry divers to the RAN and rose through the ranks to attain warrant officer status.
Both men were parachute qualified, fast rope qualified, had qualified in submarine escape and had trained in close quarters combat.
They could descend to the greatest depths allowed and could use multi gas equipment.
They also had extensive experience in destroying World War II ordnance. WO Spilsted's grimmest task occurred in the Derwent River when a freighter took out a support of the Tasman Bridge sending vehicles into the water.
He was awarded the OAM for his long term support of clearance diving veterans.
As a final kit up WO Spilsted climbed into a 50-yearold Siebe Gorman Standard diving suit.
The brass helmeted and lead booted suit worn by WO Spilsted was used up until 1955 when the RAN moved to more modern diving equipment The old suit is now an exhibit in the museum at HMAS Penguin's dive school.
By Graham Davis
Original Source: defence.gov.au | WayBackMachine